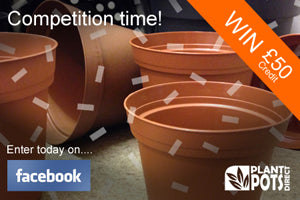 Facebook competition - Win £50 to spend at our store
As part of our 9th Birthday celebrations we are giving everyone the chance to win £50 to spend at Plant Pots Direct.
The completion will run on the social media platform Facebook, where Plant Pots Direct have their own page. We will be adding the names of our audience into the 'HAT', on Friday 16th February we will then draw a name out at random to see who wins the £50 prize.
To be included in the draw, simple follow the steps below:
How to be included in the draw:
1. Visit our Facebook Page (here) and 'LIKE' our page.
2. Find the completion news article on our page.
3. Click 'LIKE' on the news article.
4. Click 'SHARE' on the news article.
5. Make a comment on the news article.
A couple of Questions & Answers they you may have:
Why do we have to 'Like' and contact you with Facebook?
We are running the promotion with Facebook to improve our Facebook profile. We like to keep our customers (and potential customers) informed with Facebook, the more people that see / share / comment on our posts the more likely the post will be a success.
What happens if I win?
If you are lucky enough to win the competition, we will contact you via Facebook to discuss how you can used the prize.
Will there be any further chances to win?
The competitions is a first for us, we are hoping the competition will be a success, if it is we will certainly be running competitions in the future.