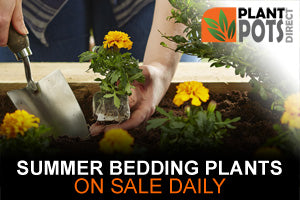 Summer 2019 Bedding plant sales
Following the success of last years bedding plant sales, we have opened the doors of Plant Pots Direct again to the general public and will be sell Summer bedding plants on a daily basis from our premisses in Pudsey, Leeds.
We have teamed up with a local grower who has over 30 years experience in the business, producing high quality shrubs, perennials and bedding plants that will be available again at our shop. We have doubled our sell capacity and ensured a constant supply will be available with weekly deliveries guaranteed to keep the stock fresh through out the spring and summer months.
The shop will be open Monday to Friday from 12:30pm until 18:00pm and at weekends from 09:00am until 14:00pm. Our sales are not just restricted to plants the shop is well stocked with all the products available on the website, orders can be made in the usual ways or by just simple calling in at having a look.