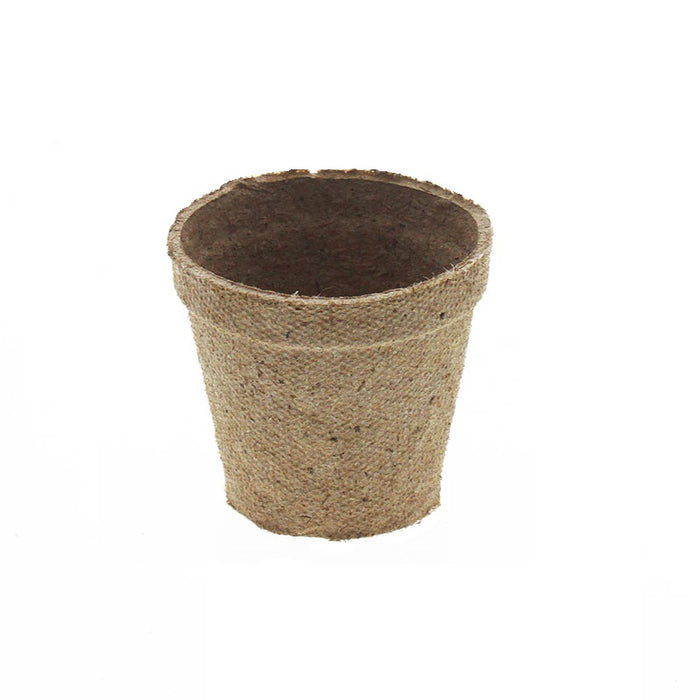 8cm Biodegradable Peat Pots
Original price
£0.14
-
Original price
£0.14
Product description
8cm Biodegradable Peat Pots - Jiffypots®
Jiffy pots are manufactured from a minimum of 50% sphagnum peat, 50% wood fibre (pulp) and lime (to regulate pH levels). The peat content gives optimal soil porosity and improved root penetration, whilst the wood fibre gives the pot structural strength. pH 5.0 (+/-1.0)

Benefits:

Air pruning gives strong, fibrous root development
Minimal root disturbance & reduced transplant shock when potting-on
100% biodegradable product means no de-potting & waste packaging generation.
Root zone microclimate averages 1o higher than using plastic pots
Buffering capacity of pot reduces water consumption by approx. 20% compared to plastics
Product details
Colour - Brown
Size
External = 80x80x80mm (with lip)
Depth = 80mm
Volume - 0.12 litres
How it works

Fill the pots/strips with potting soil.
Water thoroughly – making sure sides of the pots are saturated.
Sow seed or stick cutting and position in a bright place.
When the seeds are sprouting, turn the cover slightly for air circulation.
When the seeds have sprouted, take the cover off.
Avoid frost.
Gradually expose to the sun.
Never over water or let them dry out.
Water thoroughly.
Refill water when required.
Transplant the pot/strip.
Put the pots/strips in a tray.
The whole pot into the flower bed or flower pot to protect the sensitive root system.
Cover with soil.