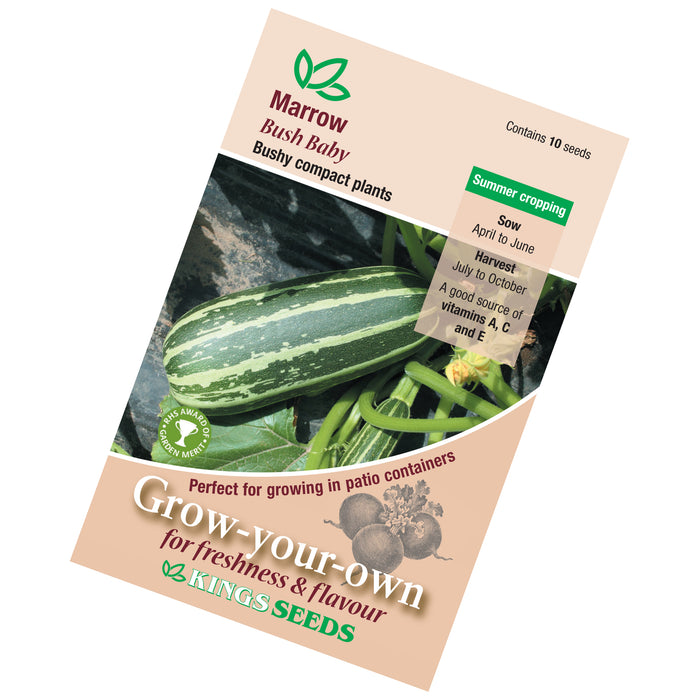 Marrow Bush Baby Seeds
Original price
£2.05
-
Original price
£2.05
Marrow Bush Baby produces compact dark green fruits with a pale green stripe, ideal for growing in smaller gardens, containers or on the patio. They grow to approximately 15-20cm(6-8") long and are very attractive when picked young as a courgette.
Marrows can be cut before the first frost and stored in a frost free but cool area and used during the winter. However, unlike courgette the skin is tough and is either removed before cooking or just after. Raise and grow as courgettes.

Pack Size: 10 Seeds

WHEN TO SOW
April to May underglass or mid May to June outdoors.

Where to Sow
Sow seed on edge 1.5cm (1/2"") deep to prevent rotting in pots during April to May 2.5cm (1"") apart under glass at 20°C (68°F) using good quality seed sowing compost. Sow outdoors mid-May to June direct into growing site 1.5cm (1/2"") deep 2 to 3 seeds in each position 60cm (24"") apart.

What to do next
Greenhouse sowings should be gradually hardened off once they have developed the first pair of rough leaves and transplanted to growing site in late-May to early-June 60cm (24"") apart. Outdoor sowings should be thinned to one plant per station. "

MATURITY
July to October

HANDY TIP
If growing in containers, water and feed regularly with a high potash feed to ensure plants remain productive.