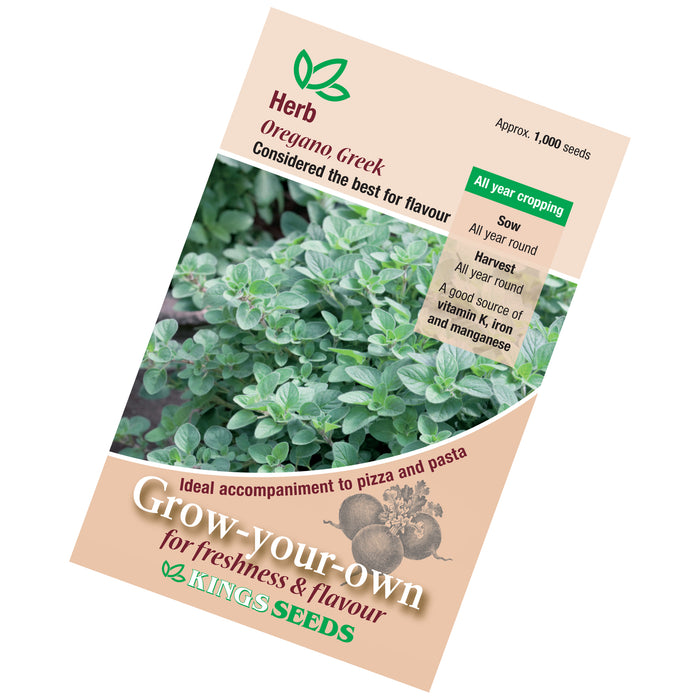 Oregano Greek Seeds
Sold out
Original price
£1.30
-
Original price
£1.30
Description
There is nothing more exciting than picking your own freshly grown herbs to add to your cooking.

Greek Oregano is considered to be the best of all the oregano types for flavour. The growth habit and leaf size varies but height is about 50-60cm . However the plant stems can get very woody, with oval, sometimes fuzzy, dark green leaves in opposite pairs. The flowers stalks are spiky and may be white, pink or purple. It is mainly used in Greek cooking to make delicious sauces and to flavour meats and fish.
Seed Count - 1000
When to sow
Sow seeds 0.5cm (¼") deep, in small trays of compost and lightly cover the seeds with a sprinkling of compost , and place at a temperature of 15-20°C . Alternatively sow direct outside in April and May into shallow seed drills.
What to do next
Prick out seedlings individually to 7cm (3") pots, once large enough to handle. Grow on in cooler conditions , then gradually harden off plants in a cold frame before planting out after risk of frost has passed. Transplant to final positions 30cm (12in) apart or into larger containers, or grow a few in pots on a light windowsill all year round. Direct sown seedlings can be thinned to 15cm (6in) apart then lifted and transplanted to final positions once large enough to handle.