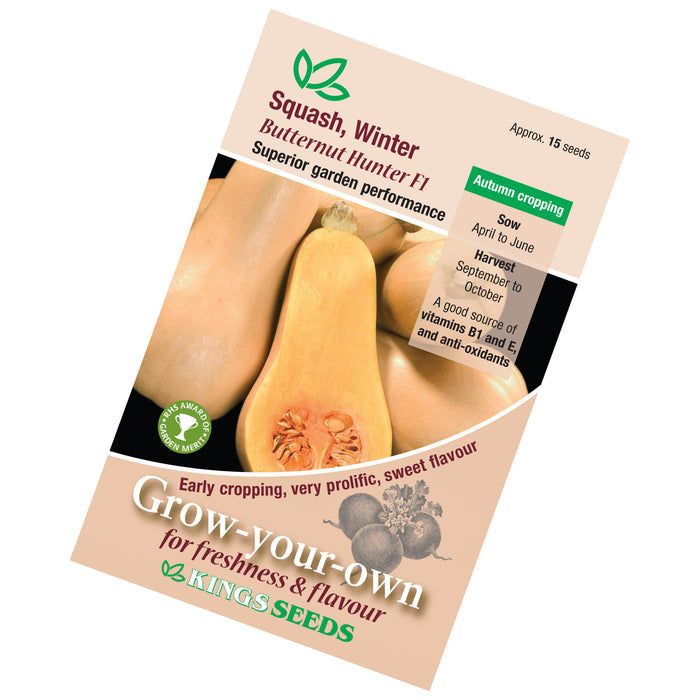 Squash Winter Butternut Hunter F1 Seeds
Original price
£2.10
-
Original price
£2.10
British bred for superior garden performance. Early and prolific plants produce good size fruits with sweet tasting bright orange inner flesh. Mature and ready to harvest 15 weeks from sowing.

Pack Size: Seeds 15

WHEN TO SOW
April to June.

WHERE TO SOW
Sow seed on edge 1.5cm (1/2in) deep to prevent rotting in pots during April to May under glass at 20 degrees C using good quality seed sowing compost. Sow outdoors mid-May to June direct into growing site 1.5cm (1/2in) deep 2 to 3 seeds in each position 60cm (24in) apart.

WHAT TO DO NEXT
Gradually harden off greenhouse sowings once they have their first pair of rough leaves and transplant to growing site in late May to early June 60cm (24in) apart once all risk of frost has passed. Thin outdoor sowings to one plant per station.

HANDY TIP
Young fruits can be peeled with a knife or potato peeler. Fully mature fruits become very hard and can only be cut into with a saw or a chopper and hammer.