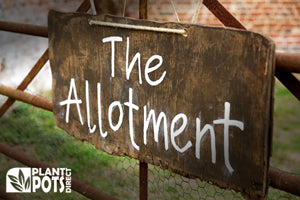 Back to the allotment
After a somewhat cold couple of months of winter weather time is upon me to return to the relaxing tranquillity of my allotment.
As some of you may remember from last year I started my blog with huge ambition and desire to return to the allotment, which I did  for about 2 weeks. Not the greatest example I do know, but life is extremely busy with a full time job, a business and a young family (Excuse after excuse....)
This year I do plan to return, I need to get back to doing what I really enjoy and gardening gives me this along with time to myself to unwind from my busy life.
The new plan is to set a 'small' selection of tasks each week to contribute towards my allotment. I will try my best to keep it short an sweet each week, adding photos of my progress along the way.
I've made a start
The good news is I have already started, although I do feel a little behind, but each year a gardener feels the same so why should this year be different.
2 weeks ago I planted a selection of Pepper and Chilli seeds in the heated propagators and left the magic to happen while I continued to process and pack orders.
After 14 days in the propagator we are seeing a little bit of new life in some type of pepper and chilli seeds that were sown. At the moment Beauty Bell are leading the way but I'm sure the other wont be too far behind.
As you can probably see fro the photographs I've used one of our plug trays to germinate the seeds, the intension is to transplant the plug in to larger pots when they have matured and developed the strong root. The plug try I have used is the 360 plug tray, but I have modified it by reducing the size so they fit into a standard full seed tray, this gives me 16x11 cells, meaning I can fit 176 plugs into the propagator at any one time.